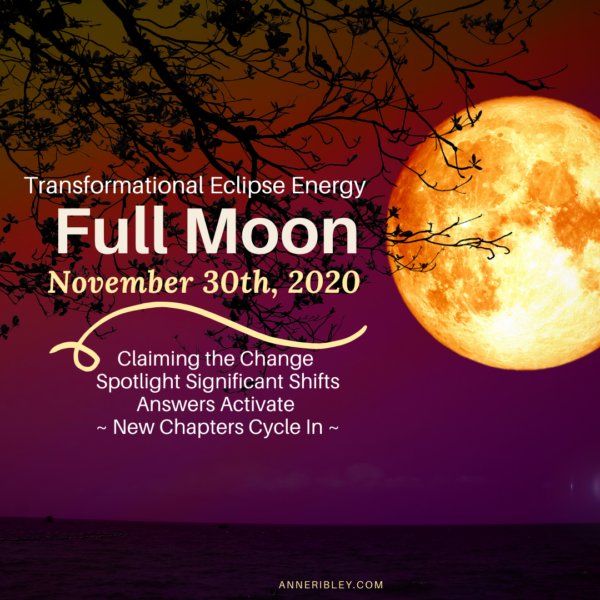 Full Moon + Lunar Eclipse Transformational Energy ~ November 30th 2020 carries on the wings of December Dreams.  ~ Create Your Miraculous Full Moon Ritual. Release and receive your manifesting good ready to cycle in.
This month's energy brings the strong activation for answers and new directions. Bigger energy is coming through at faster and faster speeds. The lunar eclipse brings a natural reconciliation and release with where the energy has been eclipsed (cut off, hidden, suppressed or what needs to be eclipsed that has covered, contained the energy needing to come alive).
FULL MOON FOCUS  + TRANSFORMATIONAL ECLIPSE ENERGY
1. ANSWERS ACTIVATE. The shift is here instead of feeling held back or heavy from outward circumstances, answers needed are activating. Clarity will surge if you let the eclipsed energy parts be released, dissolve and diminish the power grip holding you back.
2. CLAIM THE CHANGE. Honor the clarity coming through as a new cycle for December's Dreams stream the change you are ready to claim. New directions will have certainty to them even in topsy turvy times. Your focus of certainty to claim is enough to move the energy.
3. SPOTLIGHT SIGNIFICANT SHIFTS. It's stirring in you. Honor the resolve, let what needs to dissolve fall flat. Time to ignite the dreams with future forming intentions of solutions, structures, and answers for certain life areas ready to shift into permanent forms of reality for you. A new form of reality wants to manifest for you. Regardless of how the external world looks. Take time to honor these resolves for what is now ready to dissolve that has been eclipsed. You are awakening to new manifesting dreams on the other side of honoring dreams in their time to come alive.
The spiritual practice of the full moon ritual is now, more than ever, calling you to take time to reflect, release and open up to energy that is ready to support you.
Give sacred time for your ritual.
Write it right.
Pen to paper (Antenna to God, Source, Universe)
Shine on ~
Turn up the trust in your most tender spot needed for growth, outreach and deeper connection.
The Divine stream of life is everywhere and all around to connect with for trust.
What is pressing on you to move in a new direction or connection? Use the mantra… I trust the greatest good is happening… to find your footing.
Step forward. Believe stronger. Move bolder.
Trust the greatest good is happening, reach into that feeling for faith and the needed frequency space holder to firmly focus on the future forming into life. More HERE
Get your prosperity momentum going December 1 -21st for the 21-day Prosperity Mantra Challenge Experience, you will not only rediscover the blessings in your life, you access the energy fuel to super-charge your prosperity path.
Let your next 21 days be filled with daily prosperity mantras, immersive wealth deepening meditation experiences, and specific journal entries for shaping prosperity immediately into your life. 
Join us in re-shaping, re-shifting, rewriting the PROSPERITY PATHWAY over 21 days. Get your prosperity momentum  activated for new shaped stamina with prosperity. 
Daily Mantras

Weekly Deep Immersion Meditational Subconscious Programming

Mini Meditations

Daily Prosperity Intentional Journal Prompts
PRO-THE-SPIRIT of you. Prosperity.
Pick the price that works for you. (3 options)