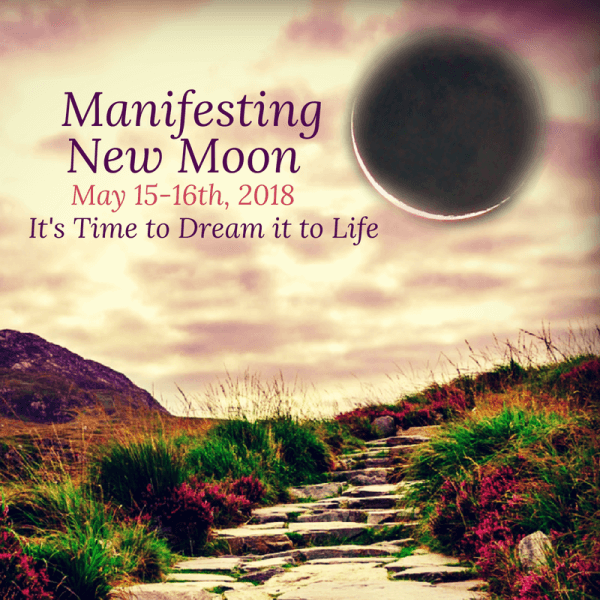 Are you ready? Let your spiritual practice and the manifesting new moon ritual boost your dreams into life. (Manifesting New Moon Ritual)
Right now begins a powerful cycle to propel your manifesting good forward. Pen to paper, antenna to God, Source, Universe. You can write it right and bring those recent insights you have been having alive with life.
There has been so much internal stretching as the external effects of the world on personal and collective levels have forced the inward clearing of consciousness. Outdated dysfunctional behaviors and habituated ways that serve and support our natural evolvement are collapsing to clear the space for new roots to grow.
Now is your time to nurture your manifesting seeds of intentions and growth and let your dreams take on a new life and shape into existence.
May Manifesting New Moon Focus:
1. INSIGHT, INSPIRATION & INTENTIONS. Look in the direction of the insights that have been bubbling to the surface for you, the inspiration speaking to you. Give attention now to the manifesting intentions that have been screaming to break out and come forward.
2. COURAGE, CONFIDENCE & CONNECTION. Claim the courage that lives in your natural innate confidence. Make the connection with your manifesting intentions without censoring them. There is truth serum in your deeply desired manifesting intentions. Let the new chapter of this manifesting cycle become alive for you.
3. NEW WAYS OF MANIFESTING YOUR GOOD. There is a new pathway of manifesting good that is ready to step forward for you. Allow yourself to receive it. Get aligned with your new ways to allow your manifesting good to step forward. You can ask yourself, "What is the new way that is speaking itself forward in my life? What is the manifesting good desiring to forward for me?" Can you allow yourself to be fully worthy to receive it?
Let your courage speak.
Allow what is ready to "BeCome" find real life in your energy field of possibility.
You are worthy to receive your hopes and dreams.
Name it and claim it.
Shine on ~
Namaste,
Anne