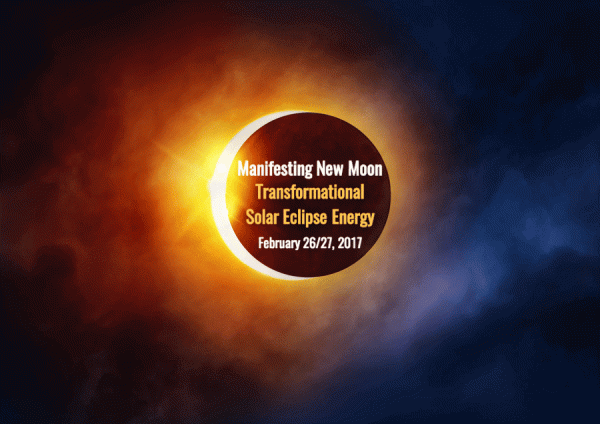 Enjoy the New Moon this Weekend with "Transformational Solar Eclipse Energy"!
It's warming up to the light of your dreams. Whatever life area has been problematic, unstable, and seemingly hopeless is ready for profound transforming healing resolution. Use this special window of time to claim your change. 
It's time for a deeply personal and honest inquiry. 
What life areas have plagued you with chronic hopelessness: 
Health? Relationships? Financial solvency? Purpose? Career? Opportunities? Life options? Don't push them away any longer. You can claim the change that heals and transforms your true soul yearnings that want life resolution. 
When the eclipse season begins, there is a wonderful window of time to ride the wave of long-lasting results. Yes, truly long lasting. You can set the foundational intentionality what will show up in supportive ways for your transformational good.
February Focus for the Solar Eclipse New Moon:
1. WARM UP TO YOUR DEEP DREAMS. The part of your dreams that has been most the plaguing to you is now asking to be brought to the light. Let it defrost, unthaw and warm up in the light. Be brave enough to be vulnerable, to "truth tell" what your soul truly yearns for in living the dreams you have felt growing inside you.
2. YOUR HEALING IS NOT HARD. HOLDING BACK IS HARDER. Holding back can be a heavy weight of darkness holding us back. Healing is a natural phenomenon, a surrendering process that allows the inherent truth to emerge and transform with tenacity that gives an ease and grace to your growth. The ring of light surrounding the dark new moon mirrors and symbolizes each of our own personal processes to allow the light to support and warm the dreaming seeds of the soul. These dreams are ready to be activated into the transforming light. Surrender to your soul's readiness. Holding back will only further the hurt that wants to be healed and transformed. Now is your time.
3. CLAIM THE DREAM. Right now in this time and space, you are being asked to claim the dream that has felt problematic for you and make resolution with it. Ignite the hope to heal what deeply desires the healing light of transformation. The claiming action that is being called right now is "out of the dark and into the light". Pen to paper. Write it right. Antenna to God, Creation, the Universe and let it be known for your soul's truth to be lived.
Your best LIFE is desiring to manifest with you!
Claim your dream.
Now is your time.
Namaste…
Shine on ~
Heart Smiles,
Anne
Manifesting New Moon Ritual Teleseminar
Create a sacred space with meditative music. (SEE FREE STREAMING BELOW)

Write a list of what you want to "Become and Be" in your life. 

Write down the new intentional changes or growth you would like to bring forth in your life. Write it right.

Read and absorb what you wrote, fold it and place the next to the candle!

Light the tealight or prayer candle and speak the words out loud… BeCome!

Sit meditatively with your candle lit, hold sacred space inside for at least 11 minutes.

Allow and surrender to miraculous manifestations on their way!
Surrender to your miraculous manifestations.
Common Questions:
What if I don't have a tea light or blessing candle? You can do the ritual with any candle, you just need to blow the candle out when you are finished. As you blow the candle out see visualize your prayers being released out into the world.
Is there a specific time on the new moon I should do the ritual? What if I missed the day of the new moon? Anytime around the day of the new moon (day before, day of or day after) the time when you can create sacred space to put prayer and intention to wishes of manifestation is the most important part of the process.
What should I do with the BeCome "Write it Right" paper after the Manifesting New Moon Ritual? You can save some in a special box or drawer. It's very exciting to go back and see what you have manifested at a later time. You can also burn the sheets, at the time or later especially when you have had a lot of attachment to what you would like to manifest, surrendering it in a letting process. You can bury them in the earth with flower or plant representing it to grow. You can even place the sheets in your recycling. There is no exact correct way to release your manifesting "Write it Right" list.  The Manifesting New Moon Ritual works with the sacred timing that you give yourself with "Actionable Intention" during the aligning time new moon provides in boosting manifestations.